Garage Door Springs
Back To Our Services
Advanced garage door maintenance services.
Are the springs on your garage door giving you trouble? After a while, springs on even the best garage doors start to sag and wear out. It's just part of owning a garage door. If you see that your door springs are starting to sag or that your door doesn't work as well as it used to, it might be time to invest in some new ones. Garage door springs in Costa Mesa aren't hard to get, but you'll want to make sure you're choosing the right ones and that they're installed correctly. For that, it might be better to have a professional handle it. Fortunately, you can get good, professional service quickly and easily.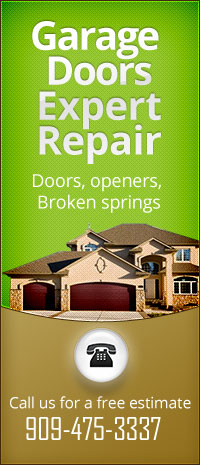 Our company can offer you all kinds of garage door springs, including:
• Broken spring replacement
• Galvanized torsion springs
• Overhead springs
• Extension springs
• Torsion springs replacement
• Extension springs repair
There are different kinds of garage door springs out there, and because you have options and may not be an expert on garage doors, it's best to let the pros take care of any garage door springs that you need to replace. It's faster, more efficient, and may even cost you less. Homeowners spend a lot of money each year to have repairmen come and fix what the homeowner has "repaired" first. Unless you have proper training, you don't want to try to replace springs. You could damage the door or even get hurt - and who wants to deal with that?
Let us help you with your garage door springs in Costa Mesa. It's what we do, and we've been doing it for a long time. You won't have to spend a fortune, and we'll make sure you get the right springs for your particular door. That way, you'll be back on having a great garage door that opens and closes properly every time. That's all you wanted from your garage door in the first place, and you had it until the springs began to show some wear. We'll help you get it back and get on with your life.
Get in touch today at 1927 Harbor Blvd, Costa Mesa, CA, 92627 or call us at 909-475-3337.
You'll be glad you took the time to get the pros to fix your garage door the right way.